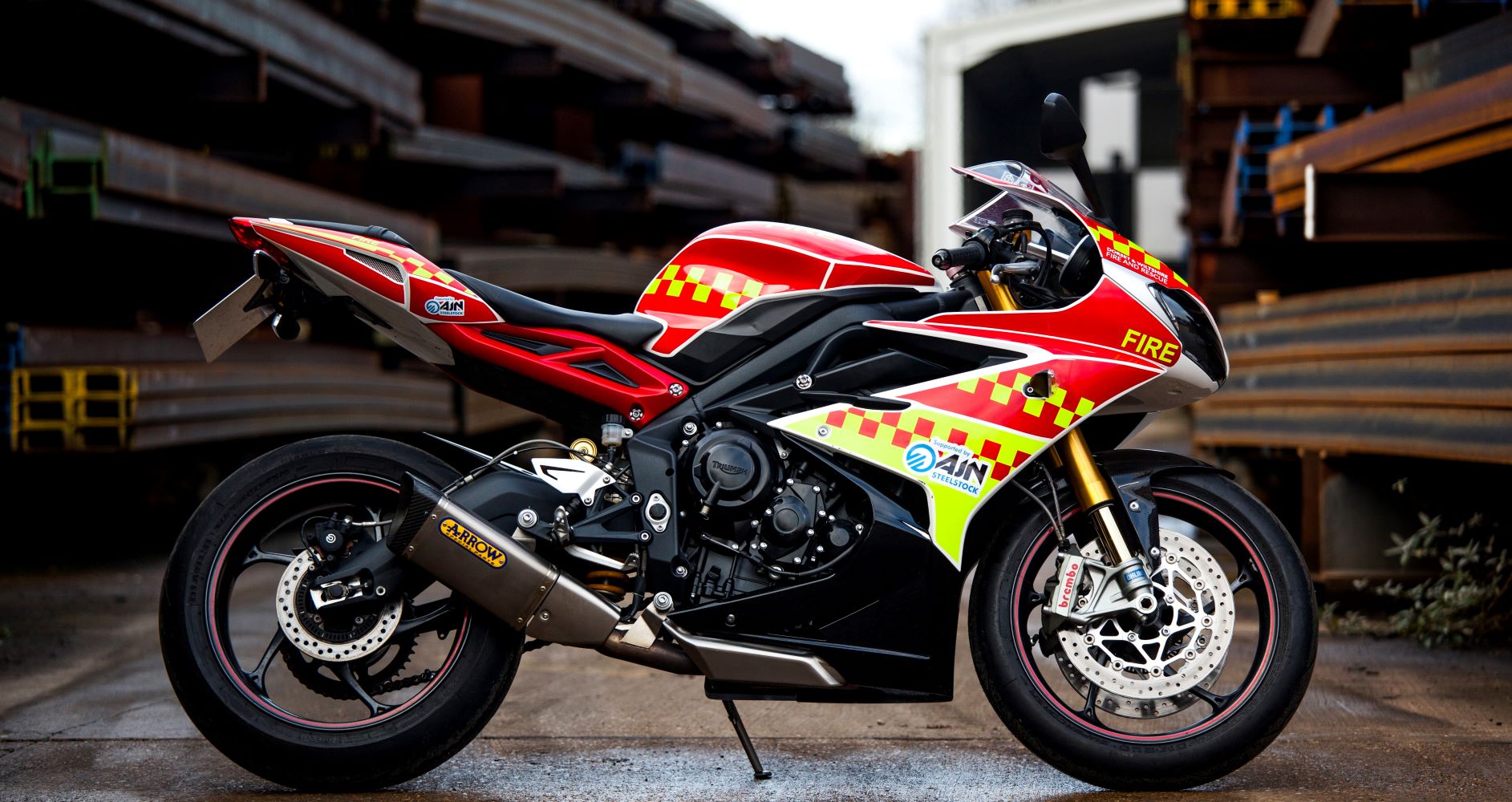 Biker Down, a national road safety initiative aimed at motorcyclists, can now be developed and delivered across multiple locations after sponsorship from AJN Steelstock – one of the UK's leading steel stockholders – was secured for the coming year.
Dorset & Wiltshire Fire and Rescue Service has been piloting the scheme with the help of Wiltshire Air Ambulance, but the support now provided by AJN Steelstock means the free, three-hour course, which covers crash scene management, casualty care and the science behind the scene, can now be delivered in multiple locations across Wiltshire.
Christine Sharma, Road Safety Manager, at Dorset & Wiltshire Fire and Rescue Service, comments, "Biker Down was initially started in Wiltshire by Watch Manager, Dean Hoskins, a keen motorcyclist who wanted to see the scheme available in this area.
"Thanks to the sponsorship from AJN Steelstock, which has given both a generous financial contribution and donated a Triumph Daytona 675R motorbike to help promote the scheme, we are now able to make this part of our county-wide road safety delivery."
The Biker Down scheme, which promotes the safety of bikers on the road and prepares motorcyclists and drivers should they be the first on the scene of a Road Traffic Accident involving a motorcyclist, is free to attend with booking details and further information available at www.roadwise.co.uk/bikerdown.
Alan Boyden, joint Managing Director, at AJN Steelstock, adds, "As an experienced biker, and with numerous like-minded staff at AJN, I really see the benefit of schemes like Biker Down and was only too pleased to support the new Wiltshire programme.
"I have no doubt that the course will help to save lives, and we'll certainly be promoting it to our customers and colleagues."
AJN Steelstock is one of the UK's largest UK steel stockholders with sites in Newmarket, Suffolk and Henstridge, Somerset. In 2019 it was recognised as one of the fastest-growing companies in the UK and listed in The Sunday Times Grant Thornton Top Track 250 league table. For the second successive year (2018, 2019) AJN Steelstock was also identified as one of London Stock Exchange Group's 1,000 Companies to Inspire Britain.
The company employs 375 people split between its two stockyards from where it supplies high-grade steel for construction projects across the United Kingdom.